Journey through Yunnan TOP1 - plateau-lake (Lake Erhai) deep in mountains
Colorful Yunnan is a collection of almost every kind of natural scenery. Even though it is inland and far from sea, it still has patches of blue plateaus with freshwater lakes. Every winter "Seagull" arrives on time.
Most of these lakes are fractured structures of earth's crust movement, with steep banks, deep water and clear waves, combined with blue skies and warm sun on plateau, charm of lakes is further enhanced.
On shore are villages that have depended on lake for generations. The inhabitants live a poetic life, grazing horses and farming near lake.
In Yunnan there are not only mountains on other side of mountain, but also legendary plateau lakes.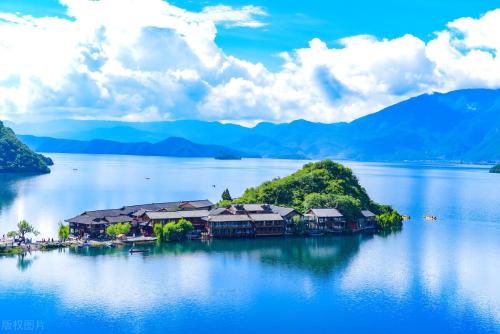 (1) Dali Erhai Lake
The huge Erhai Lake has long been known. The attractive blue water surface, combined with Mount Cangshan in distance, became for Dali a poetic interpretation of "wind, flowers, snow and moon." Whether boating on lake or cycling on lake, Erhai Lake's water rhythms and waves have enchanted countless tourists.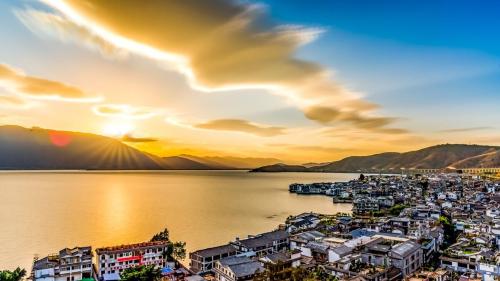 At foot of Cangshan Mountain, near Erhai Lake
How to play at Erhai Lake?
1. Sea Surroundings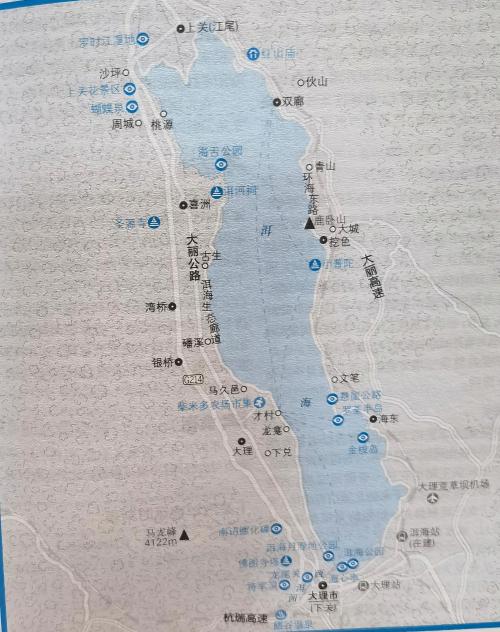 Changer District
Riding a bike, cyclists with some training will spend 6-8 hours around sea, and recommended plan for ordinary passengers is 2 days.
On an electric bike, you can easily travel across sea in 1 day.
If car drives itself, it will take less time. (The price of a charter car by sea for one day is about 400 yuan, please check with driver in advance about entering store and shopping)
The routes of above three ways are basically same, and it is best to go around sea in a clockwise direction, which can ensure Erhai Lake appears on side of road from side of cyclist. There are 3 roads to choose from in Hesi:
West Huanhai Road (environmental corridor) has most beautiful scenery, please confirm that whole road is passable before leaving, otherwise you may have to detour village;
National Highway 214 (Yunnan-Tibet Highway) has highest elevation, where you can enjoy beautiful scenery of Erhai Lake while admiring Cangshan Mountain from close range;
The Dali Highway (Provincial Highway 221) is heavily trafficked and narrow, so it is highly discouraged.
(The Erhai Lake Bike Ride is held every year, usually in April and May. Cycling enthusiasts may take a look.)
Tourists with limited time can only drive short distances: Haixi to see countryside, Haidong to see Erhai Lake, rice field road near Xizhou, and rocky road from Duse to Haidong, which are both simple and beautiful. .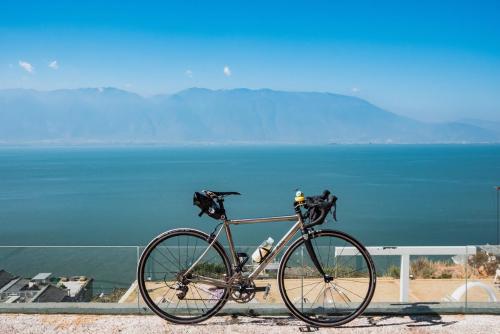 Ride on sea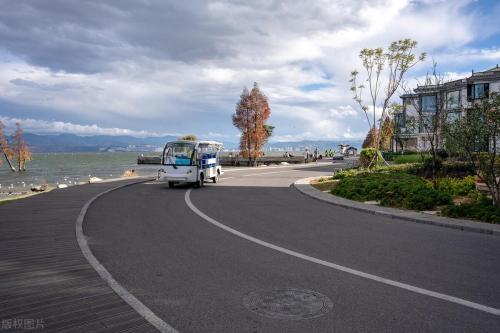 Ringhai Highway
2. Erhai Park
Also known as Tuanshan Park, it faces widest north-south gap of Erhai Lake, and offers a beautiful view of sea! The camellia garden at top of mountain blooms in winter and spring, and Haixin Pavilion on Binhai Road is also a great place to watch the sea.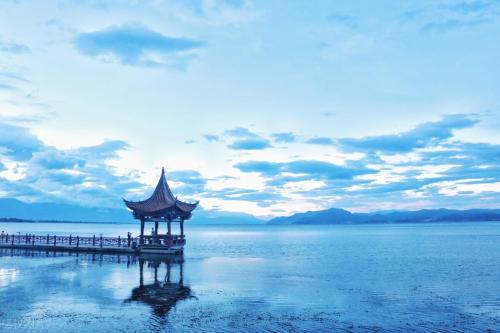 Haixin Pavilion in Erhai Park
3. Erhai Moon Wetland Park
This is most convenient place for bird watching in Dali. Purple water chickens often live here, and Chinese herons, red ducks, etc. fly here at right seasons.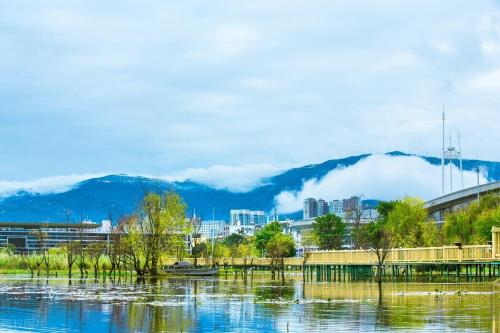 Erhai Moon Wetland in morning after rain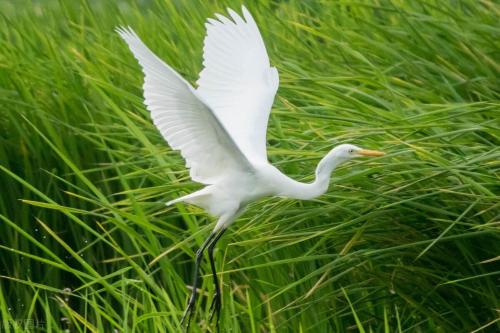 Wild egret in a swamp
How to live on Erhai Lake?
The tourism industry in Dali is well developed, housing can be found in almost every village near sea, and there are many characteristic hotels opened by foreign investors. With exception of Caicun, Shuanglang, Kuise and Xiaguan, most of other places are quiet and there are various sea view accommodation options along route.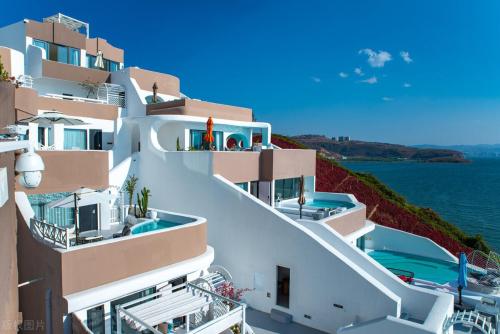 Santorini Celebrity Internet Hotel
What's on Lake Erhai?
Dali delicacies are widely known throughout Yunnan province, such as Xizhou baba, Weishan rake pork pieces, Yanbi noodle rolls...
The following products can be used as a reference:
1. Milk fan, a type of cheese product, baked milk fan can be seen in streets and alleys of ancient city of Dali, and fried milk fan can be used as a dessert before and after dinner.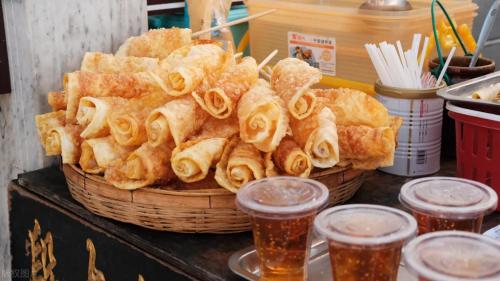 Fan with baked milk
2. Spicy and sour fish, with light-tasting small carp, with sour papaya or plum vinegar, served with chili noodles and bad peppers. The spicy and sour fish in Eryuan is best.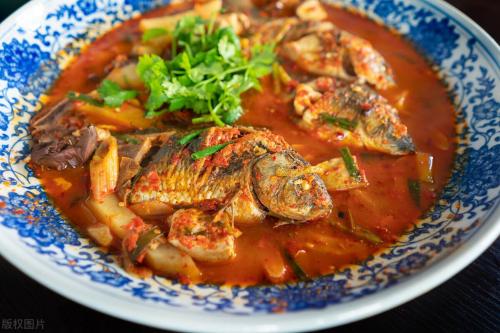 Spicy and sour fish
3. Yellow chicken stew, known as "Western Yunnan chicken", is different from popular yellow chicken stew (Shandong cuisine) among us. The yellow chicken stew here has a spicy and rich taste. oils.
4. Seaweed, a plant that grows in Erhai Lake, if it blooms white, then yes, it is legendary "water flower". Boiled in soup or fried, taste is soft and fragrant, very unique.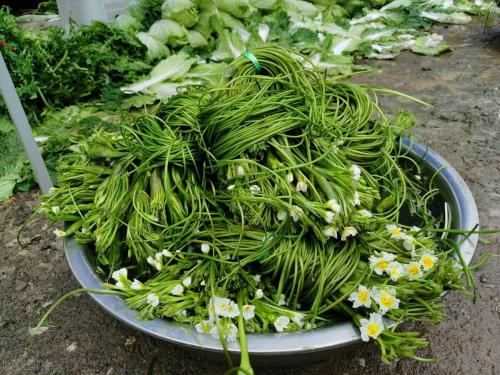 Water flowers in market
5. Raw pork skin, a dish highly prized by Bai people, outsiders can still have psychological barriers.
6. Forest mushrooms, you must eat mushrooms when you come to Yunnan.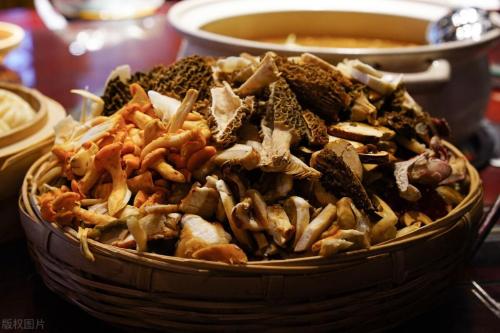 Pot with wild mushrooms
7. Tongpiao beef roast, Baoshan and Tengchong are most famous and Dali's is also good.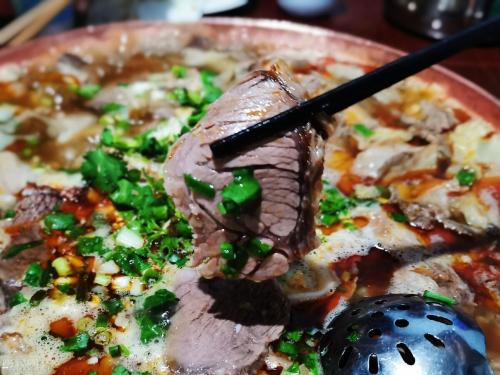 Copper ladle with beef head
Erhai Lake contents will be written here for now. The next article will be a story about Lake Lugu. Follow me and don't get lost!