Be sure to visit tourist attraction in Guizhou, largest Miao village in world, although it is now very commercialized.
Our country is a multi-ethnic country, which has specially established minority autonomous prefectures and counties, townships, etc., in addition to separate minority autonomous regions, most provinces are still mixed with various ethnic groups, especially in south, there are many ethnic minorities.
Especially in two provinces of Yunnan and Guizhou, ethnic minorities have become main population. Currently, largest ethnic minority in Guizhou is Miao people, and there is also largest Miao village in world, Xijiang Qianhu Miao Village.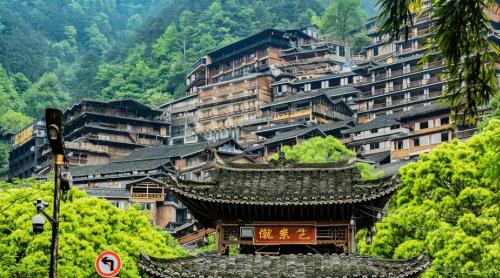 Xijiang Qianhu Miao Village is located in Leishan County, Qiandongnan Prefecture, Guizhou Province.Dozens of Miao villages are connected here, and more than 1,000 Miao families live here, so it is also called Qianhu Hu Miao. Village.
The buildings in Miao Village are built in typical Miao style, typical Miao buildings on stilts are built uniformly. Such buildings are usually built in mountainous areas. The lower part of house is supported by bamboo. or brackets.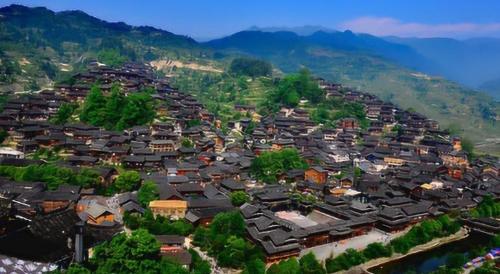 The bottom of house is a hollow area and house is not built directly on ground. In this way, it can not only avoid problems of flood protection and humidity in rainy season, but also avoid invasion of wild animals in mountains.
The only way to get to Qianhu Miao Village is by car. You can choose to travel by car or use dedicated tourist line at high-speed rail station.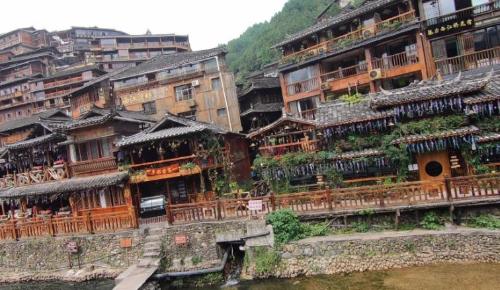 After you've reached entrance of Miao Village and bought your tickets, the first scenic spot you'll encounter is famous barbarian wine of Miao people. Men, women and children of all ages are dressed in national costumes. and holding homemade rice wine in their hands.
When tourists arrive, they will play flute and musical instruments, distribute rice wine in front of tourists, give them a drink, and experience enthusiasm of Miao people from first step. If you are not strong enough to drink, you can also ask them to replace wine beforehand, which will also allow you to experience pleasure of wine locking.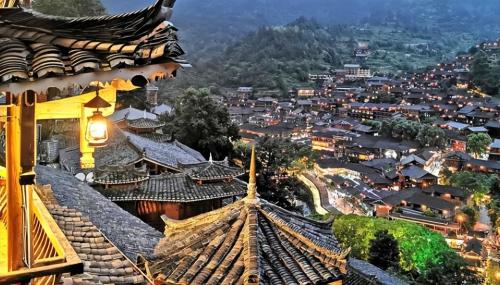 After passing through gate, as soon as you enter, you will be taken directly to shopping street. Because original buildings of Miao Village were built on a mountain, they were built on a mountain. An entire shopping street was built on flat terrain at foot of mountain.
The central square connects a few simple main roads, which are all streets of Miao Village. It seems that structure is very simple, but when you look up, you will find that all over mountains and plains there are buildings of Miao family on stilts.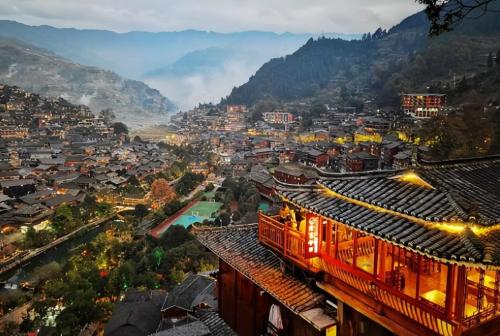 The central square is core of entire Miao village, where many large-scale events are held. During daytime, Miao Village Long Table Festival will be held in central square. The whole street is lined with tables one after other, like long tail of a dragon from street to street.
After tourists are seated, most characteristic dishes of Miao family will be served, forming a grand stage where thousands of people eat together. In evening, A large-scale song and dance performance on beautiful Xijiang River will take place in theater near central square, which fully demonstrates living history of ancestors of Miao people and process of migration to Guizhou.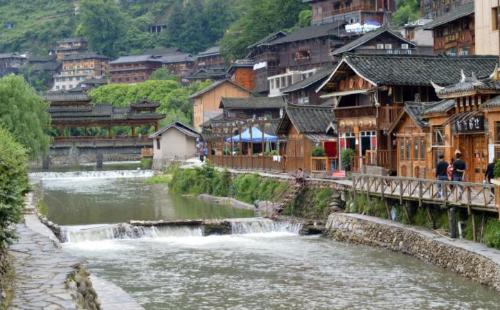 It also fully shows difficult history of establishment and development of Miao people in Guizhou, and finally shows overall picture of current prosperous development of Miao people. This performance vividly reflects history and culture of entire Miao people, and has a high cultural and artistic value.
The most amazing thing about Miao Village is viewpoint at top of mountain, there are beautiful ones too, but those that can be called unique will have to wait until evening.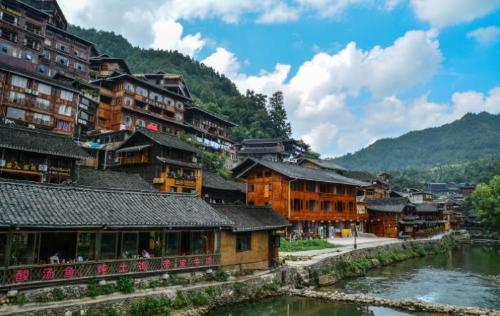 There is a special sightseeing car to get to observation deck, if you want to walk, then you can, walk is not difficult, but it is even more pleasant to climb mountain with a cool breeze blowing on a good day. We waited until observation deck in evening, when it began to get dark from sky.
Shops in Miao Village and colorful lights near houses began to light up one after another. On lookout overlooking whole village, I watched as a piece of dim building began to emit a warm yellow light until it got later and later.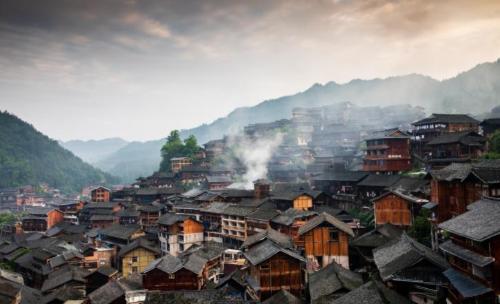 The light emitted from houses of thousands of households is like stars in sky scattered in this small palisade, and river under palisade also shines under the light, like a twinkling galaxy surrounded by stars.
In addition to these beautiful decorations and performances, Miao costumes are also popular with people. In Miao villages, you can also make your own batik.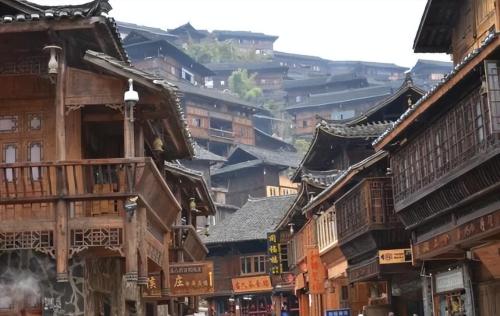 Batik is a unique technique for dyeing and painting fabrics of Miao people. You can go to handicraft workshop in Miao village to visit and buy. If you are interested, you can also design your favorite pattern and then do batik. After production is completed, you can pick up your own exclusive fabric.
The Miao people are an existence that cannot be ignored among many nationalities of our country, and an integral part of our country's colorful national culture. If you are interested in its culture and life, you may wish to experience it in Miao Village.